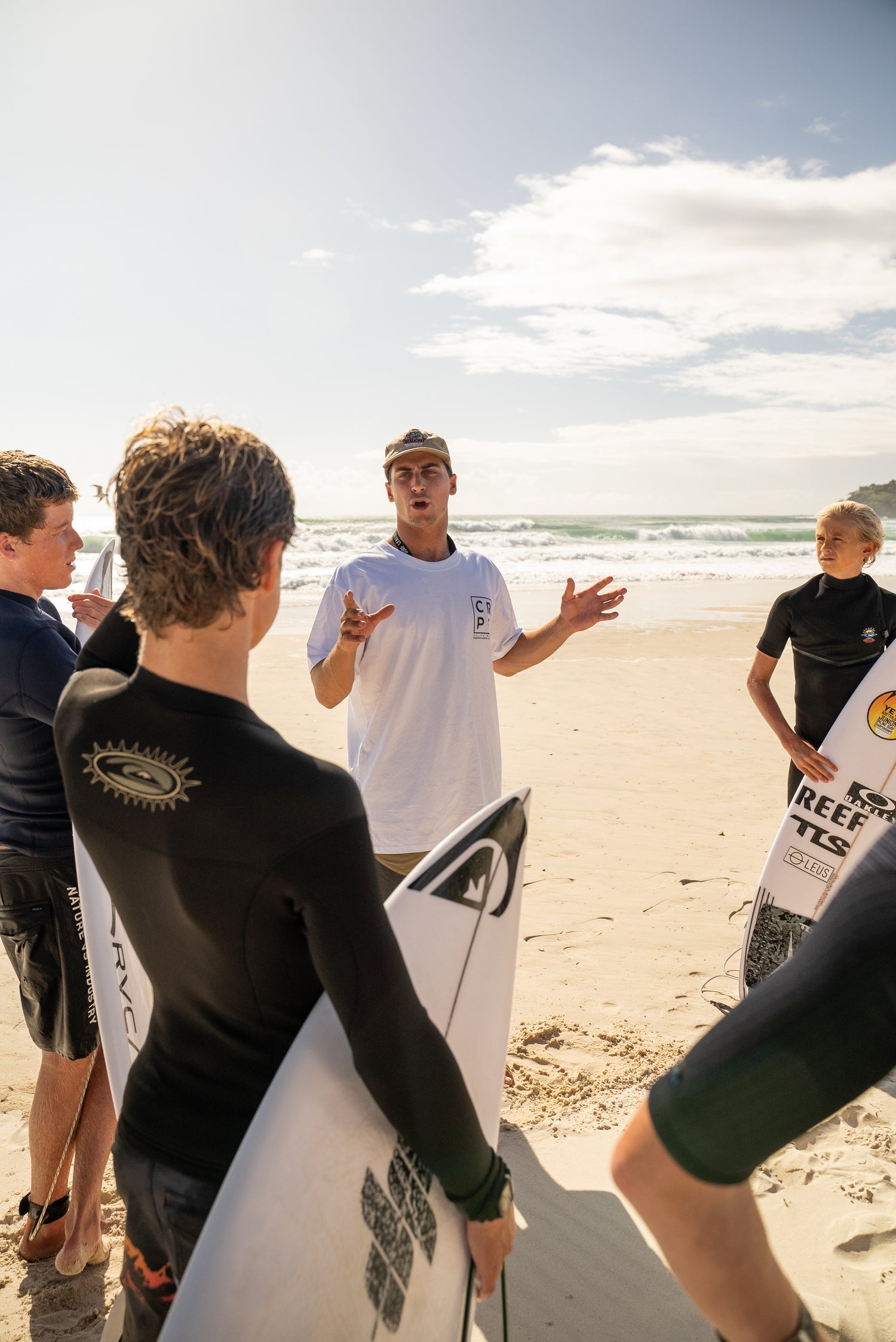 WHAT IS INVOLVED?
Callum Robson Performance Coaching is a premium opportunity for juniors aged 14 to 17 who aren't involved in any nationally funded pathway programs.
These juniors show signs of being curious, tenacious, with a willingness to grow and a clear competitive desire. From the bottom to the top, this camp is elite, giving the individuals involved the opportunity to access Australia's best support and performance network in a 3
day unrivalled experience.
They get to experience the training environment and program of a current professional athlete competing at the highest level.
Gaining the ability to understand the ingredients necessary to thrive personally and professionally.
THE SCHEDULE
DAY 1

4-5pm – Arrival at HPC
5:30pm – Camp Introduction
6:30pm – Travel Recovery Session
8pm – Dinner
9pm - Bedtime

DAY 2

5:30am – Cold Immersion
6am – Breakfast/Intention Setting
6:45am – Warm up &
Activation
8am – SURF / Heats
11am – Video Analysis
12am – Lunch
12:45am – Michelle Mitchell Values Workshop
2:30pm – SURF / Progression Session
4pm – Video Analysis
5pm – Recovery Session
6pm – Nutrition Workshop with Kerry O'brien
8:30pm - Reflection/Mindfulness

9pm - Bedtime

DAY 3

5:30am – Cold Immersion
6am – Breakfast/Intention Setting
7:30am – SURF / SKI SESSION
11:30am – Video Highlights
12am – Lunch
12:45am – Performance Phycology Workshop with Jason Patchell
2pm – SURF / Stress Test
4pm - Surfboard Shapers Workshop with DHD Darren Handley
6pm – Dinner

8:30pm - Reflection/Mindfulness

9pm - Bedtime

Day 4

5:30am – Cold Immersion
6am – Breakfast/Intention Setting
7am – Strength & Conditioning Workshop with Cohen Crispin
8am – SURF / Tag Team w Special Guests
11am – Q & A with Special Guests
12am – Lunch
12:45am – Good Human Workshop
2pm – Camp Wrap up
3pm – Departure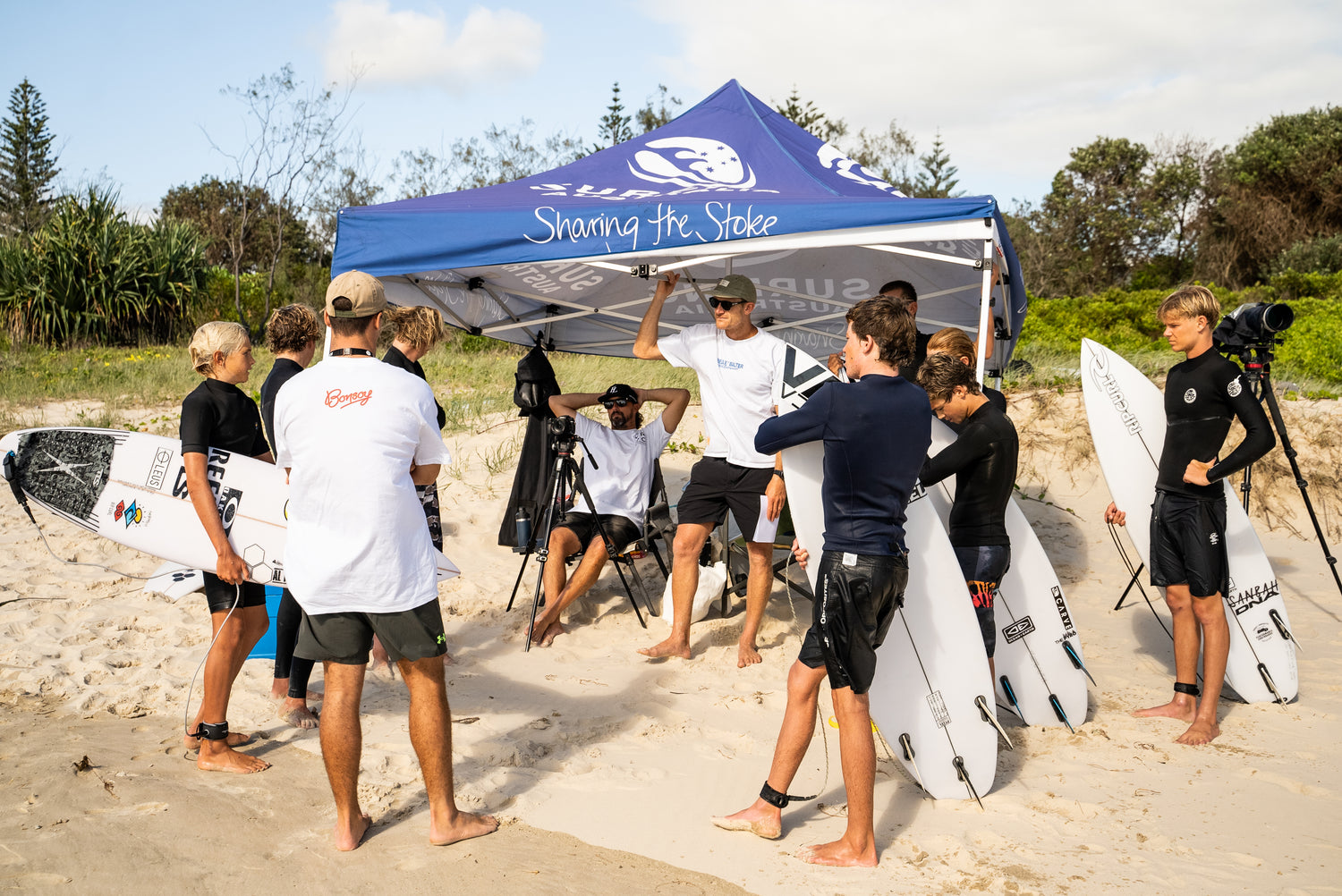 CAMP GOAL
Expose the individual to a sustainable
approach of professional surfing,
training outside their comfort zone.
- Encourage limitless thinking
- Building the individuals capacity to
embrace more
- Breakdown the myths of high
performance
- Understand individuals identity
CAMP VALUES
ACCOUNTABILITY

To understand the responsibility you play in the process of achieving success.
EXPLORATION

Curiously exploring an unfamiliar area.
SUSTAINABILITY

Creating a longterm balanced approach to sustain high performance.
GROWTH

Showing up with the purpose of improvement and growth.
CONNECTION

Connecting to what matters, when it matters in order to thrive.
SAFETY

A safe enviroment where everyone can be vunerable and explore growth without judgement.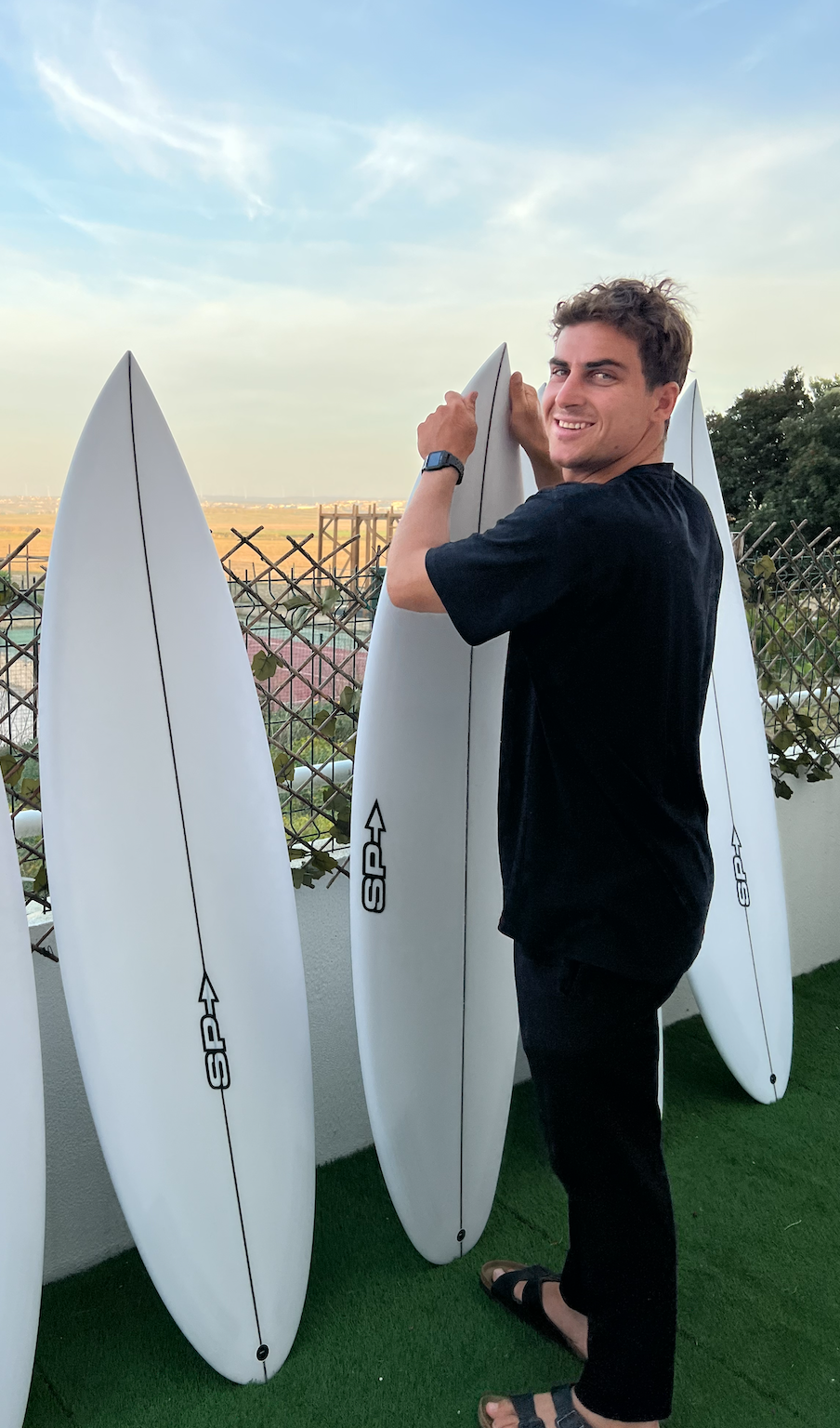 Callum Robson
Callum didn't follow the traditional path to the Championship Tour. His late start to competitive surfing has made for a rapid assent. Callum's focus centres around his preparation, his physical training is the foundation for his powerful brand of surfing. He attributes his success to his strong mindset, that doesn't put limits on what's possible. His obsession with self-improvement has seen him gravitate towards other sports and industries to mould his own approach to professional surfing. Callum's passion for coaching took off about 3 years ago through covid. "I found it pushed me to understand what I was doing and how I was doing on a much deeper level, this sparked a fire within to think on a much deeper level. I love helping make a difference to someone's surf or life journey. "
@CALLUMMROBSON
Peter-Rees Duncan
Peter Duncan is a passionate lifelong surfer and one of Australia's leading surf coaches, having spent the last 9 years working with athletes of various levels at Surfing Australia's High Performance Centre.
Pete has recently taken up the role of Talent Pathway Coach which sees him working with the best U16 surfers in the country through to world tour athletes. With a holistic approach to coaching, he strives to instil a new level of work ethic and professionalism in the next generation of Australian surfers.
In addition to a well-rounded coaching skill set, Pete has a Bachelor or Exercise Science and Nutrition which gives him the ability to maximise performance outcomes for his athletes, both in and out of the water.
@PETER_REES
Jason Patchell
Jason Patchell is the Podium Psychologist at Surfing Australia and leads his own global private practice – Innerventure. Jason spent 13yrs at the Australian Institute of Sport (AIS) and continues to hold AIS Senior Consultant and leadership roles. Over this time Jason has worked with many Olympic, Paralympic and Professional sporting organisations, athletes and coaches. Jason is passionate about optimising human potential and supporting individuals and organisations to make transformative changes to explore what's possible.
Button label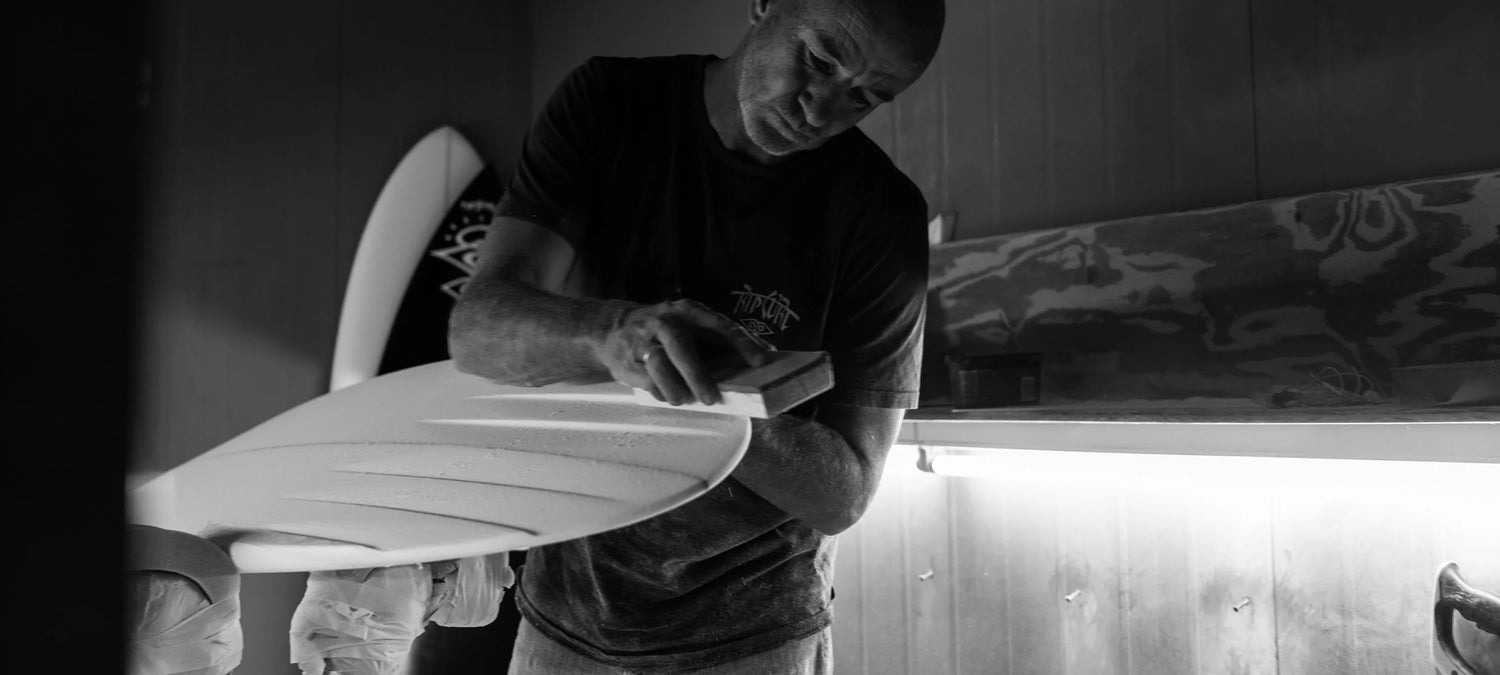 Darren Handley
Darren Handley's passion for surfing began on the wave-rich Gold Coast of Australia, where he grew up surrounded by some of the world's most famous waves and talented surfers.
As one of the world's best shapers, DH's reputation precedes him, having shaped boards for some of the most successful surfers in the world, including 3X ASP World Champion Mick Fanning and 8X ASP Women's World Champion Stephanie Gilmore.
Despite his success, DH remains grounded and heavily influenced by his team riders and the surfing community.
@DHDSURF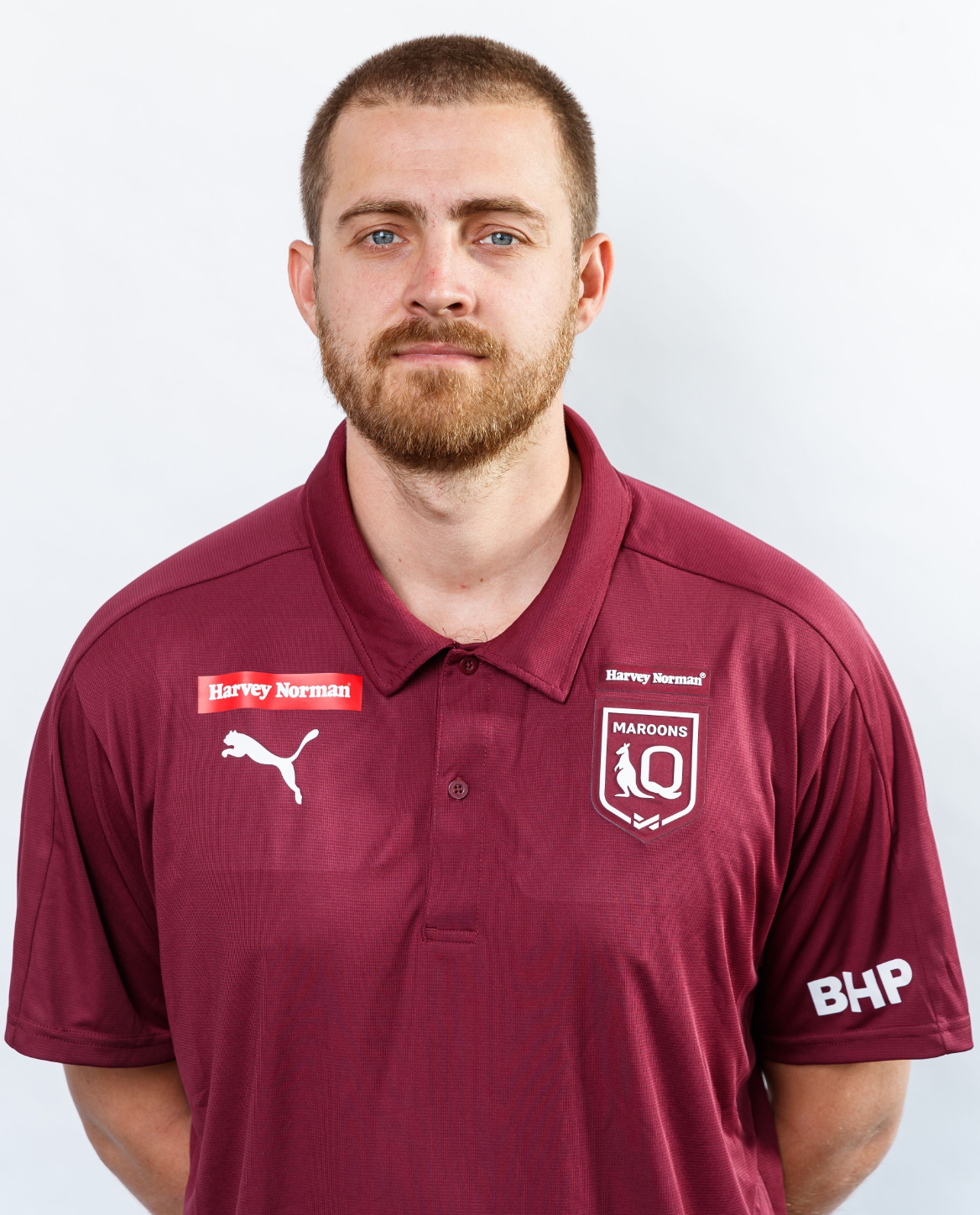 Cohen Crispin
Cohen Crispin is the Strength & Conditioning Coach for Surfing Australia and the Burleigh Bears. He is also the Sport Scientist for Queensland Maroons.
Cohen Crispin has worked in high performance sport for a number of years across multiple sports. He is passionate about helping athletes in their journey to maximum performance in the water. He has worked with athletes across a variety levels from state level to WCT. The experience he has gained across years of hard work has helped him design programs to maximise athletes performance all year round.
@COACH_COHENCRISPIN
Kerry O'Bryan
Kerry O'Bryan is performance health practitioner with expertise and passion for Sports Nutrition. He is an accredited Sports Dietitian and has worked across all stages of athletic development with several sporting codes (surfing, freestyle BMX, swimming, rugby league, rugby union, sprint kayak, slalom kayak) and professional teams (GC Titans, GC Suns, QLD Reds). Kerry is currently contracted by the Queensland Academy of Sport (QAS) to support categorised surfing athletes, based at HPC, Casuarina.
The Good Human Factory
The Good Human Factory addresses mental health by teaching and inspiring participants to take better care of their mind. Cooper Chapman – who also happens to be a professional surfer – is the workshop facilitator. The workshops are different to most other mental health organisations. They avoid talking about anxiety, depression, and suicide completely. They deliver an educational skills-based workshop. The Good Human Factory doesn't want participants to leave feeling scared of mental illness, instead wants them leave empowered to implement healthy daily habits.
@THEGOODHUMANFACTORY
Michelle Mitchell
Michelle Mitchell is the lead Athlete and Wellbeing Engagement Manager in the Surfing Australia high performance program. Michelle specalisises in value based performance coaching. "Helping individuals and teams become the best versions of themselves" is what she does best. Michelle is an Olympic Gold Medalist with the Australian Women's Hockey team. Michelle understands the demands on athletes and has a great understanding of what it takes to be at your best.
BOOK NOW
Secure your place at Callum Robson Junior Performance Camp 2023.
All bookings via Surfing Aus HPC.
TAKE ME TO THE BOOKING PAGE